Research
Your questions will entice our 7,500 linear metres of archive and library documents to reveal their stories about the past. The archive database allows you to research our holdings. They are not arranged by subject, but by origin, i.e. by the regions of the PTT and the departments of its central administration. Our scientific specialist library contains current and historical publications dedicated to the subject of communication. If you have any questions or information about our holdings, we will be happy to assist you. You can find our contact details here.
The holdings of the PTT archive are arranged according to their origin, i.e. according to the regional division of the PTT and the departments of the central administration and not according to topics. In our special scientific library you will find current and historical publications on mail, telephony, telegraphy and telecommunications. If you have any questions about our holdings, we will be happy to assist you. You can find our contact details here.
Archive databaseLibrary database
Do you have any questions?
Call us at 031 331 11 51.
Write an email to archiv(at)mfk.ch.
Infromation on how the archive database can be found here.
Digital contents
We are currently retro-digitising our holdings to give you even more opportunities to carry out your research digitally. Any newly retro-digitised documents are regularly linked into our database. Other retro-digitised documents stored on external platforms are the result of our cooperation with other cultural institutions:
We are currently retro-digitising our phone directories. The first ones are available online in our Digital Reading Room (click here to go directly to the inventory). We will be constantly releasing more online.
If you wish to be kept informed, please subscribe to our newsletter.
Help us preserve history
By becoming a patron you help us to restore damaged documents and support us in continuing to maintain public accessibility to our archive holdings. Every contribution counts and helps us to preserve another piece of PTT history.
Collections
Forerunner of the Federal Postal Administration, 1708-1847/48
Administrative documents of private posts, commercial directorates, directorships, Lyon Ordinari, Fischerpost, Thurn und Taxis, cantonal posts, etc.
Swiss Post, 1848-1997
Administrative documents from the head office and all of Switzerland.
Federal Telegraph and Telephone Administration, 1852-1997
Administrative documents from the head office and all of Switzerland.
Internal and external PTT publications, 1849-1997
Official gazettes, ordinances, regulations, telephone directories, advertising material, forms, etc.
Thematic collections, 1849-1997
Post office chronicle, local catalogue, postal courses, stamp impressions, etc.
Academic library, 18th – 21st centuries
Publications on Post and Telecommunications, Universal Postal Union, International Telecommunication Union, etc.
Oral history, 2014 until today
Since 2014 we have been conducting video interviews with former PTT staff members. Their personal recollections record the technical, social and organisational changes within the companies. Learn more at: www.oralhistory-pttarchiv.ch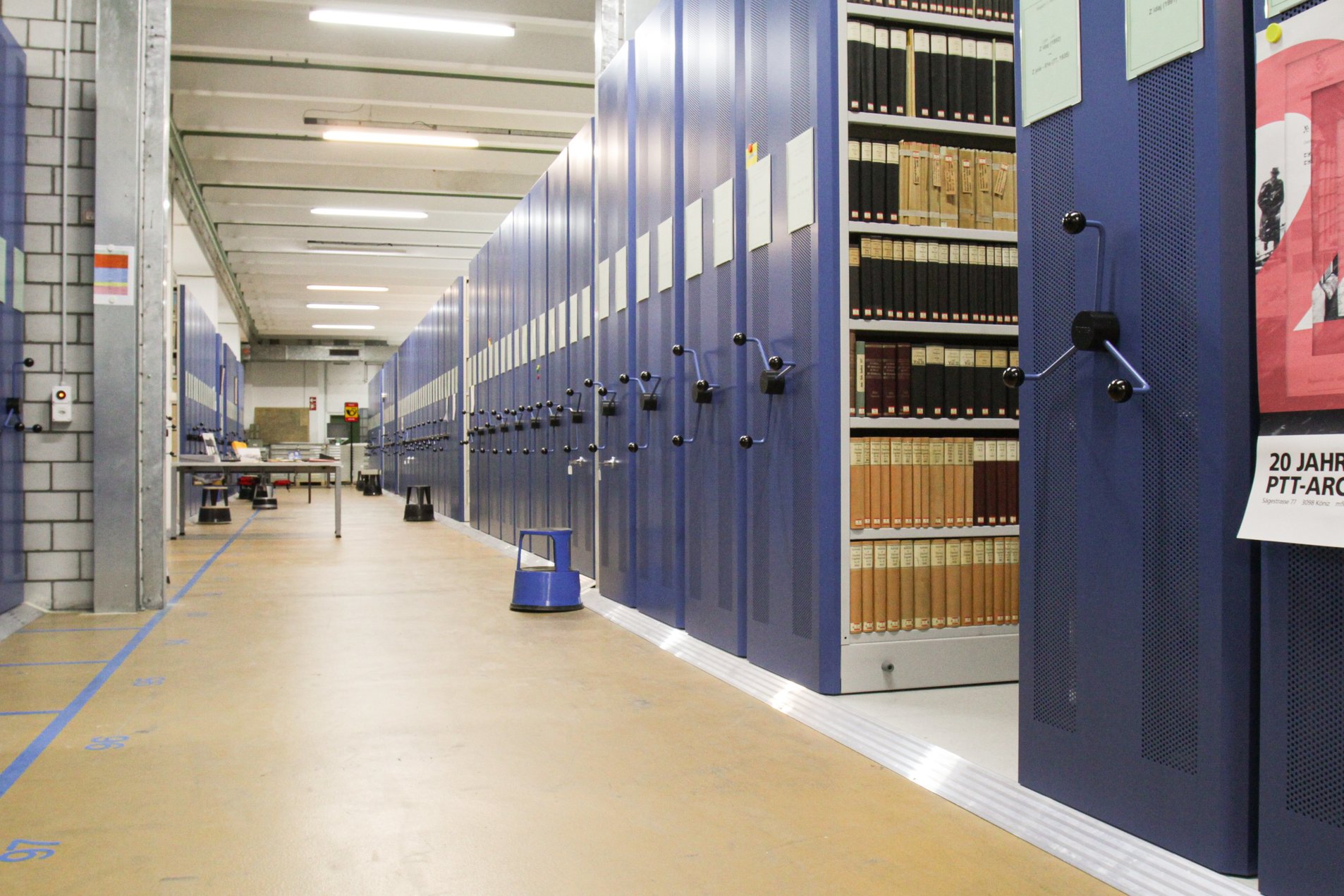 On site
Our reading room is equipped with a WLAN, a photocopier, Scan-Tent and a reference library. Please contact us in advance of your visit so that we can have the archive documents ready for you in the reading room. Dossiers can be ordered straight to the reading room via the archive database. We will send you a confirmation email.
Photocopies can be made (please note our price list available in German or French), provided the documents are in good condition. Photographs can be taken free of charge, but flash photography is prohibited.
Our archive is subject to the Federal Act on Archiving. This means that the records are protected for 30 years, while personal data is protected for 50 years. If you are interested in viewing files that are still within the protection period, you can submit an access request. We will be happy to advise you.
Our terms of use (available in German or French) apply to the handling of the historical documents at the PTT Archive.